View Our Magazine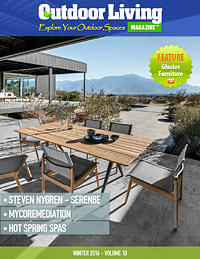 Winter 2016 Issue
Online Version
Subscribe to Outdoor Living Magazine via your Tablet Device - It's FREE!
Winter 2016 - In This Issue
Many thanks to all our wonderful contributors.
If you or your company would like to contribute in future publications contact judy@outdoorlivingmag.com
STAY CONNECTED!
Get the Latest News and Events from OLM delivered directly to your email inbox via our OLM eNewsletter.
We promise you'll love our content!